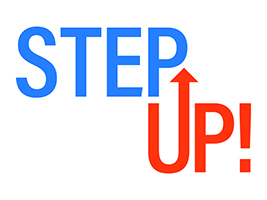 September is California Mission Offering month: a Season of Prayer and Offering for California Missions.
Since the entire month is designated for California missions, churches are encouraged to use materials – poster, bulletin insert/prayer guide, videos and other resources – to observe the prayer and offering emphasis throughout the month.
Theme for 2019 is "Step Up!" based on I Corinthians 15:58 (CSB) - Therefore, my dear brothers and sisters, be steadfast, immovable, always excelling in the Lord's work, because you know that your labor in the Lord is not in vain..
The goal for the 2019 Offering is $500,000. Gifts to the offering will support church planting, evangelism/missions/disaster relief, church revitalization, small churches, associations and season of prayer/marketing.
Purposes for the offering are to:
Educate California Southern Baptists concerning the urgent need of reaching our state for Jesus Christ.
Encourage California Southern Baptists to pray for California missions and state missionaries who work with churches to share the Gospel.
Encourage California Southern Baptists to go on mission and share their faith.
Encourage California Southern Baptists to give so ministries throughout the state can be deployed to spread the Good News of Jesus Christ
Learn more about CMO through: