Lottie Moon Christmas Offering 2020
The Lottie Moon Christmas Offering for International Missions is named for Lottie Moon, who served as a missionary in China for more than 30 years in the late 19th and early 20th centuries. Without this offering Southern Baptists' international mission efforts would cease to exist. The International Mission Board (IMB) sets a national goal, and churches are encouraged to observe the Week of Prayer and participate in giving to this vital offering. It provides more than half of IMB's operating budget, with every penny going to support nearly 5,000 international missionaries serving around the world. For more information about the offering and Lottie Moon, visit www.wmu.org.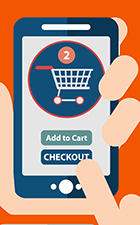 Order materials: International Mission Study resources may be ordered through CSBC Woman's Missionary Union.
An order form is sent to each California Southern Baptist church several weeks before the emphasis. Please complete the form and mail it back with your order.
Banners and videos may be ordered from www.imb.org or by calling 800.968.7301.
More About Lottie Moon
Lottie What?
The question "Lottie What?" is one that asks what it is about the Lottie Moon Christmas Offering for International Missions that sets it apart from other pleas for help. While missionaries minister in a wide variety of ways overseas, their primary objective is to share the Good News of Jesus and His love for the world. The "what" is how this is done.
There are many calls for help today, aren't there? Television advertisements portray the needy of the world – the homeless, orphaned children, victims of disasters, families without incomes, abused seniors. Newspapers carry daily stories of people in need. Volunteer networks have been formed to help meet this multitude of needs. There's no doubt volunteers and financial assistance are ways of helping individuals change their lives or better them.
The annual offering taken near Christmas focuses on the projects and needs international missionaries have in order to do the work to which God has called them. Southern Baptists appoint men and women to serve in various capacities: some are appointed in the medical arena as nurses, doctors, dentists or therapists. Others travel to another country or region to teach in seminaries, develop media outreach or provide English courses for nationals. Many are appointed to start churches and train pastors. Every effort is made to help nationals become leaders who can continue ministry after the missionaries are gone.
Whether a missionary helps equip farmers to grow more food, raise goats for their livelihood or begin cottage industries, they continue to share Christ who is their true hope and life. Bible studies become house churches and reach into remote villages, with the number of new believers growing daily.
"Lottie What?" provides money for language study, missionary housing, seminary courses, Bibles in many languages, resources for women's and children's work, and many other ministries.
"Lottie What?' is an important question to ask during this time of the year. Lottie Moon made a commitment to China and her people. Her vision reached far into the future to see a world still largely without Christ, a world living and dying in spiritual darkness. Lottie wanted to be part of the solution, a beacon of eternal hope to that world.
Lottie Where?
Since this special offering was established, its purpose has been to support a multitude of mission projects as well as missionaries themselves. The Lottie Moon Christmas Offering is a critical part of the IMB budget. Providing about 57% of the IMB's total budget, gifts to this offering enable missionaries to develop strategies to reach people groups all over the world.
Having a mission presence in 125 countries and with a workforce of nearly 5,000 missionaries, Lottie Moon's dedication has literally impacted the world. Her plea, "Send the missionaries," has been heard around the globe. Her passion for unreached peoples can still be heard today as missionaries share the challenges of their work.
There have been 6,000 identified unreached people groups in the world, and the IMB continues to seek ways to infiltrate pockets of isolated peoples with the gospel. Working with Roma peoples, living with nomads of Africa or moving from village to village in Indonesia, missionaries are able to serve without concern for a livelihood. Many mission support systems depend on their missionaries returning to the United States to enlist their own financial support. When upon occasion that support disappears, they have to return home. Giving through the Cooperative Program (established by Southern Baptists in 1925) and to the Lottie Moon Christmas Offering ensures that Southern Baptist missionaries are able to stay on the field.
Lottie What? asks about the purpose of the mission offering. The answer to the question gives insight into what can be accomplished to tell the story of Jesus when believers work together in supporting missions with their prayers and giving. Here are a few examples of how this happens:
It costs an average of $46,700 to support a missionary for one year.
The national goal for 2018 is $160 million.
There are more than 6,000 unreached people groups in the world, defined as one where the people have limited or no access to the Bible in their own language and one where the majority has not heard about Jesus.
Church starting is a primary emphasis for international missionaries.
Not all missionaries are preachers! Nurses, doctors, agriculturists, musicians, teachers, athletes, administrators ... and the list goes on!
Lottie What? might be a question you have asked. Now that you have an answer, how will you participate? What will you do to proclaim Jesus to the world? Can you pray? What can you give? Will you go?
Lottie Who?
Charlotte Digges Moon was born in 1840. An unusual young woman who wanted nothing to do with God or church, she became the most well-known international missionary in the long history of Southern Baptists.
Most likely you never met Lottie. In fact, if you did and you met her in the last year of her life, you would be about 100 years old now!
Known for her "spunk" and enthusiasm, this woman who wasn't even five feet tall impacted the world as few others have. Once she committed herself to God's Kingdom work, she never turned back. That commitment became a passion for international missions and led her to take the long, arduous journey by boat to China where she served for 39 years.
In Lottie's day, people who went as missionaries to another country did not plan on returning home. They may have made trips back to the United States but there was never the thought that their term of service expired or that they would someday retire. Their appointment and commitment were lifelong. Making that commitment, Lottie began her work in China with the enthusiasm for which she was known. She established a girls' school and made many trips into the interior of China.
For many years Lottie was called "the devil woman" because of her skin color, and was not accepted in the Chinese culture. Later photographs of her illustrate her love for the Chinese as she wore Chinese clothing and lived in remote villages so she could be among those who needed to hear about Jesus.
Because of her love for the world and her dedication to missions, the annual mission offering taken near Christmas was named in her honor. Lottie was an outspoken advocate for the support of missions. When someone asks "Lottie Who?" they need to know about this passionate woman who encouraged and challenged Southern Baptists to give sacrificially to missions. Her plea "Send the missionaries!" is often used as an example of the type of dedication we should have. The annual Christmas emphasis on international missions is due in large part to this small but powerful woman, Lottie Moon.
She said in a letter in 1887, "Why should we not … instead of the paltry offerings we make, do something that will prove that we are really in earnest in claiming to be followers of Him who, though He was rich, for our sake became poor?"
Lottie Why?
Christmas is a season to be celebrated! It is a time to reflect on what happened 2,000 years ago that changed the world forever. What transpired on that winter night set the world on a new course.
God's love became human. God's love was later spilled out on a cross for our sins as His Son gave His life for every person. It was a gift, something that costs us nothing to accept.
With this as the reason for celebrating, the celebration is not complete. What God did was complete. What Jesus sacrificed was sufficient; it was complete with His death. What is unfinished is that not everyone knows it happened. Not everyone has been invited to the celebration yet. Millions have never heard the name of Jesus, much less about the reason for the celebration.
It is our responsibility as those who have heard to tell others about the celebration and its Host. Obviously, we all cannot or will not go into the entire world with this message, but we can help that happen. We can indirectly tell the story by supporting others to go. We do this by praying fervently that all may hear about Jesus. We do this with our financial support. Reaching the world for Christ will only happen when we give sacrificially! And, yes, we may be called to go. That going may be across the street, next door, to the hospital or talking to a co-worker.
Lottie Why? is a penetrating question. We pass bell-ringers on the streets during Christmas. We see posters promoting a community toy drive for needy children. We read stories about families losing their homes. Our friends talk about a project to provide Christmas gifts for the homeless. We attend church and see Lottie Moon Offering posters. There are envelopes in the pews and the pastor shows a video clip about international mission work.
If we are not careful, we will become immune to the pleas for assistance and, unfortunately, the call to give to missions can also be a casualty. Out of habit we may dash off a check for the same amount we gave last year. The easiest thing to do is to write a check! We must realize that the question Lottie Why? calls us to reconsider our part in missions, to ask God what He is calling us to do. It is a time of celebration! But what about those not yet invited?
Lottie Why? challenges us to make a new commitment to the call God has given all of us, regardless of our physical location. "Millions of people without Christ" is the answer to Lottie Why?